Spicy "Hot" Potatoes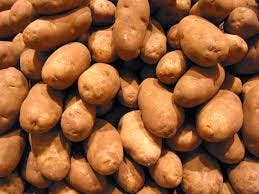 Arabic is quite possibly one of the hardest languages in the world to learn. Just learning to pronounce certain words can wreak havoc on your tongue and throat. That said there are a few words that are so much fun to pronounce. One such word or combination of words is the name of my next recipe, "Batata Harra". Just saying the words makes me smile and floods me with memories.
Running their small business my parents worked sunup to well past sundown. In addition to preparing made from scratch products to sell in their shop daily, my mother always made sure our family, (my father, two brothers, grandmother, and not to mention the constant flow of visiting relatives), ate three square meals every single day. My mother had her system. Breakfast and lunch bags were always ready before my brothers and I woke up to go to school. She would start prepping and making dinner right around 3 o'clock as we were returning from school. Her "Go To" side dish was always Batata Harra.
Batata Harra was my mother's go-to dish not only because it was a crowd pleaser, but it is so easy to make. With three growing boys on her hands, my mother would make it first and hide it in the oven to keep us from eating it all before dinner was served.
Even today, it is a struggle to not eat the whole dish of potatoes myself, they are just that good! These potatoes are baked until slightly crunchy and seasoned with garlic, fresh coriander, and harissa paste. The blend of herbs and spices adds a nice flavor kick.
How to Prepare Spicy "Hot" Potatoes (Batata Harra):
Preheat the oven to 425 degrees.
Cut red potatoes into 1-inch pieces. Add potatoes to a large bowl. Toss with salt and 3 tablespoons extra-virgin olive oil.
Spread potatoes in an even layer on a baking sheet, and bake for 20 to 25 minutes or until golden. Remove from the oven and let stand for 5 minutes.
Using a spatula, transfer potatoes to a large serving bowl and set aside.
Heat a small saucepan over low heat. Add 2 tbsp. extra-virgin olive oil, 1 tbsp. garlic, 1 tsp. Harissa and approx. 2 oz. chopped coriander, salt, and pepper to taste.
Add the cooked mixture to the potatoes, and gently toss to combine.
Serve warm or at room temperature and enjoy!